Voices College-Bound Language Academies is thrilled to introduce our newest school in the Bay Area: Voices West Contra Costa! In a 4-1 vote, the West Contra Costa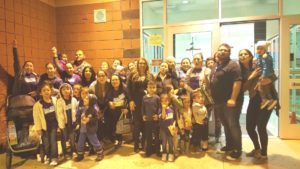 Unified School District's Board of Trustees approved Voices' charter petition for a 5-year term beginning in the 2018-19 school year. Over the last year, parent leaders in the district have been working to bring Voices to their community: meeting with elected officials, collecting signatures, holding home meetings, writing their stories and more.
Voices is eager to begin serving students in West Contra Costa while continuing to foster a collaborative relationship with West Contra Costa Unified School District. We are grateful to the board for their due diligence, good questions, and approval.
Building on the tenacity and strength of the community, Voices West Contra Costa will open as the first Voices school in the East Bay, and our fourth school overall. Voices WCC's Founding Principal José Gonzalez was with us last night at the vote. What he told me has truly resonated: "It was so inspiring to see the power of parent advocacy in action," he said, "and I can't wait to bring the Voices model to a community so motivated to have more high-quality education choices for their children."
See the full press release HERE.