Today, 140 Voices Morgan Hill students marched in honor of Cesar Chavez and his work for farmworkers' rights.
At Voices, our students live out the value "In Lak'Ech" (a Mayan phrase meaning "I am you, You are me") every day. They learn to advocate for themselves and their peers both in and outside of the classroom.
We're proud to share an article published today by The Morgan Hill Times covering In Lak'Ech in action during Cesar Chavez Day. Click here to read the full article.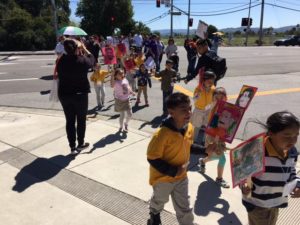 Image Credit: Michael Moore, The Morgan Hill Times